Northern Musical Evenings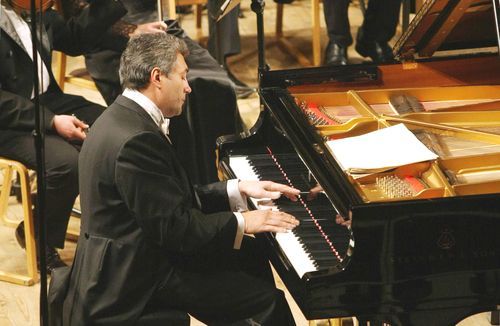 This international festival of classic music is well-known not only in Ukraine, but beyond its borders too. Every year the world-level masters take part in Siverian Music Evenings, owing to the efforts of Mykola Sukach, artistic director and main conductor of the Academic Symphony Orchestra 'Filarmonia' and founding father of the festival. (www.day.kiev.ua - Tetiana Polishchuk, The Day)
The XV International Festival 'Siverskoye musicales' invites fans of classical music!
On stage - the Academic Symphony Orchestra 'Philharmonia'. Conductor - artistic director and chief conductor of the Honored Artist of Ukraine Mykola Sumach.
21 March:
Soloist - Vadim Rudenko (Piano). Shevchenko Anatoly Bazhenov (violin, Ukraine).
A. Vivaldi. The Four Seasons
P. Tchaikovsky. Concert Fantasia for Piano and Orchestra
March 24:
On stage - Aleksei Nabulin
Chopin, Ballade A flat major, №3, tv.47
Chopin, Polonaise in F Sharp Minor, Op. 44
Chopin, Polonaise in A-flat major, tv.53
Chopin, Polonaise-Fantasy in A Flat Major, tv.61
Liszt, Ballade in B minor №2
Liszt, "Consolation". Ballade №3 D Flat Major
Liszt, Sketch "Mazeppa"
---
March 25:
Soloist - Aleksei Nabulin (fortepiano)
R. Schumann, Concerto for Piano and Orchestra in A Minor
S. Bortkiewicz, №1 Symphony in D Major "My Motherland"
March 27:
On stage - Quartet N. Lysenka: Anatoly Bazhenov (violin), Ivan Kucher (cello), Oleg Seredinskii (violin), Sergey Romanesque (viola) and winner of the International Competition Ekaterina Bazhenova (piano).
J. Haydn. Quartet in D Major, Op 64, №4 "Skylark"
Beethoven. Quartet in C minor, Op 18, №4
A. Dvorak. Quintet in A Major, Opus 81
(http://anoncer.net/event/8463)
BANDS AND SINGERS
Okean Elzy
Jamala
The Hardkiss
Tina Karol
Christina Solovy
Piccardysky Tertsiya
Ruslana
Skryabin
Alyosha
Olexander Ponomarev
Zlata Ognevich
Onuka
Antityla
Loboda
Irina Dumanskaya
Irina Fedishin
Vivienne Mort
Krykhitka Tsakhes
S.K.A.Y.
Druha Rika
Boombox
Buv'ye
Lama
Platch Yeremy
Voply Vidoplasova
T.N.M.K.
Tartak
Noomer 482
Braty Hadukyny
O. Torvald
Bahroma
Epolets
Haidamaky
TIK
Ani Lorak