Mykolaïv Academic Ukrainian Theater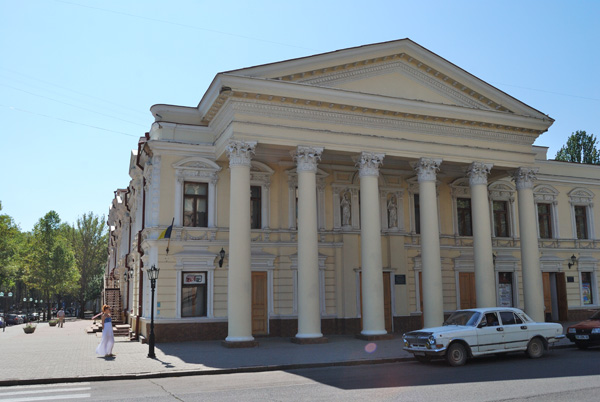 The Mykolaïv Academic Ukrainian Theater of Drama and Musical Comedy is a well-known theater that participated in many national and international competitions and festivals. Over the years the theater group went on tour in nearly 100 cities. And today, it is touring across the regions in Ukraine.
The theater's history started on November 1, 1927, when it was founded at the Nikolaev District Political-Educational Theater of Young Spectators. The theatrical group performed the premiere ('The Labours of Hercules') on January 26, 1928 at the Club of Pioneers. The godparents of the theater, curators and educators, became the people's artists of the Soviet Union: Alexander Yablochkin, Nikolai Plotnikov, Sofia Manuilovich and the brothers Robert and Raphael Adelgeim.
In August of 1959, the State Theater of Young Spectators and the Taras Shevchenko Traveling Theater merged into the Regional Ukrainian Music and Drama Theater.
In 1980, the theater was given a new status: the Mykolaïv Ukrainian Drama and Musical Comedy. Under leadership of chief director Oleg Ignatyev the 'Mykolaïvans' consistently became great in terms of form. The very first performances ('Two maple trees' by E. Schwartz, 'Mystery Bouffe' by Mayakovsky and 'Bastards' by Y. Glovatsky) put them first place in the Republican and All-Union competitions. As a master of directing musical performances, Oleg Ignatyev pleased classical operetta lovers with 'Mister X' and 'My Fair Lady'. Also viewers and critics loved the other productions of different genres: the drama 'Nelegalka' (author A. Crimea), the literary and musical fantasy 'Francesca de Rimini' and 'Great Beast' ('Aesop') by G. Figueiredo.
Heading into 1988, Mykola Berson was committed to making the theater the best one in Ukraine. So it is quite natural that in the fully renovated theater the form, content, interior and performances show true love for the audience. In the theater the 'Academy Mrs. Links' was born and over 15 years has been successfully working. Today, the theater also performs opera.
In September 2001 the theatre was awarded with the academic status. In 2005, the theater opened a small stage. Because of the performances 'GSP', 'Orchid, Amaryllis and Rose', 'The Wishes' and 'Old Wives' Summer' the theatre gained an increasing number of supporters.
The main goal of theater is to promote national history and culture. The team working on creative ideas consists of the director Mykola Berson, Oleg Ignatyev, principal conductor Viktor Uresa, chief choreographer Alexander Leonenko and chief choirmaster Natalia Avramenko.
BANDS AND SINGERS
Okean Elzy
Jamala
The Hardkiss
Tina Karol
Christina Solovy
Piccardysky Tertsiya
Ruslana
Skryabin
Alyosha
Olexander Ponomarev
Zlata Ognevich
Onuka
Antityla
Loboda
Irina Dumanskaya
Irina Fedishin
Vivienne Mort
Krykhitka Tsakhes
S.K.A.Y.
Druha Rika
Boombox
Buv'ye
Lama
Platch Yeremy
Voply Vidoplasova
T.N.M.K.
Tartak
Noomer 482
Braty Hadukyny
O. Torvald
Bahroma
Epolets
Haidamaky
TIK
Ani Lorak