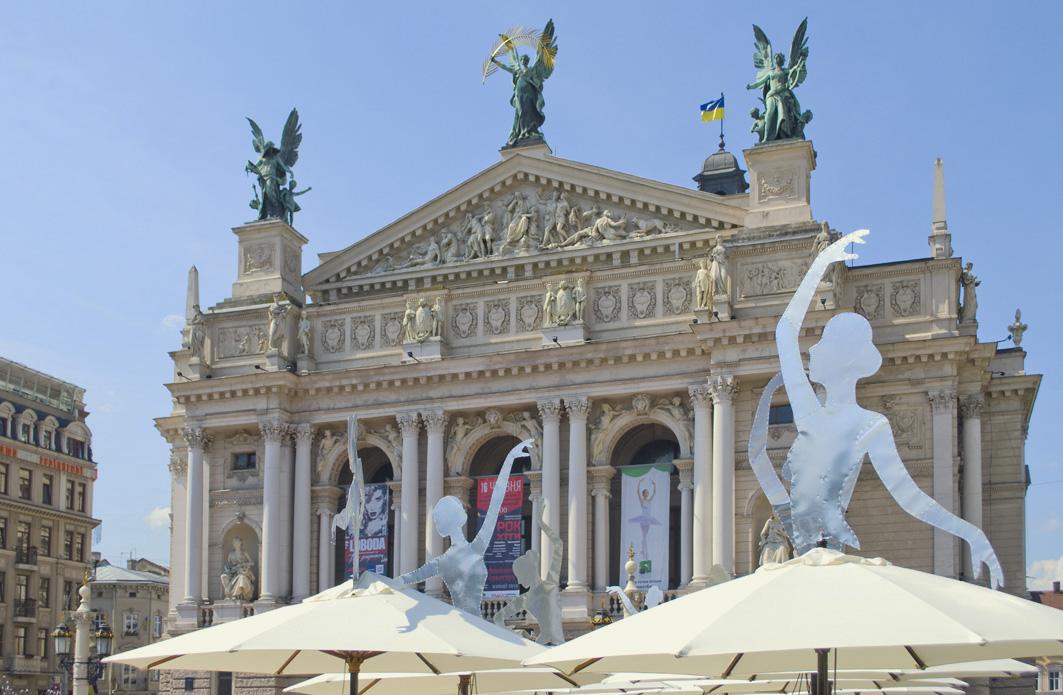 Lviv Theatre of Opera and Ballet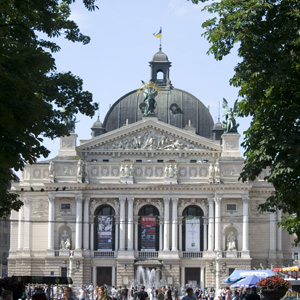 The Lviv Theatre of Opera and Ballet (Lviv State Academic Opera and Ballet Theatre of Solomiya Krushelnytska) is an opera house and theatre, built between 1897 and 1900. The Lwów Opera was originally called the Grand Theatre until it was renamed in 1939 by the Soviet authorities. In October of 1939, the building was housing the People's Assembly of Western Ukraine.
History At the end of the 19th century, the municipal authorities at Lemberg, as Lviv was called when it was the capital of Austrian Galicia, felt the need for a large city theatre. In 1895, the city announced an architectural competition for the best design, which attracted a large number of projects. Among the participants were the renowned Viennese architects Fellner & Helmer, whose entry was rejected as too international and eclectic.
An independent jury chose the design by Zygmunt Gorgolewski, a graduate of the Berlin Building Academy and the Director of the Lemberg higher art-industrial school. Gorgolewski pleasantly surprised the jury by planning to locate the building in the centre of the city, although it was already densely built-up. In order to solve the space problem, he boldly proposed to enclose the Poltva River underground, and instead of using a traditional foundation, use a solid concrete base for the first time in Europe.
In June 1897, the first stone was placed. Gorgolewski directed construction, earthwork and decorating tasks, employing the leading masters from Lemberg and abroad. Local materials were used for the construction. Marble elements were manufactured in Vienna, whereas Belgium provided special linen for painting the foyer. The Austrian company 'Siemens' was responsible for assembling the electric lights, while the hydraulic mechanization of the stage was built by the Polish railway workshop company in Sanok.
Construction continued for three years. Funding came from Lemberg, the surrounding communities, and from voluntary donations. The cost of the works totaled 6 million Austrian crowns.
There are stories that despite the engineering innovations used by Gorgolewski to construct the foundation of the building, it began to slowly sink because of the Poltva river running underneath it in a tunnel. Learning of the flaw, the architect took it to heart and fell into depression. In the end, in the story, he hanged himself three years after construction was finished (not borne out by facts − he died of heart disease). Shortly afterwards, the building stopped sinking and still remains stable nowadays.
Architecture The Lviv Theatre of Opera and Ballet is built in the classical tradition with using forms and details of Renaissance and Baroque architecture, also known as the Viennese neo-Renaissance style. The stucco mouldings and oil paintings on the walls and ceilings of the multi-tiered auditorium and foyer give it a richly festive appearance. The Opera's imposing facade is opulently decorated with numerous niches, Corinthian columns, pilasters, balustrades, cornices, statues, reliefs and stucco garlands. Standing in niches on either side of the main entrance are allegorical figures representing Comedy and Tragedy sculpted by Antoni Popiel and Tadeusz Baroncz; figures of muses embellish the top of the cornice. The building is crowned by large bronze statues, symbolizing Glory, Poetry and Music.
The theatre, beautifully decorated inside and outside, became a centrefold of the achievements in sculpture and painting of Western Europe at the end of the 19th century. The internal decoration was prepared by some of the most renowned Polish artists of the time. Among them were Stanisław Wójcik (allegorical sculptures of Poetry, Music, Fame, Fortune, Comedy and Tragedy), Julian Markowski, Tadeusz Wiśniowiecki, Tadeusz Barącz, Piotr Wojtowicz (relief depicting the coat of arms of Lviv), Juliusz Bełtowski (bas-relief of Gorgolewski) and Antoni Popiel (sculptures of Muses decorating the façade).
Among the painters to decorate the interior were Tadeusz Popiel (staircases), Stanisław Rejchan (main hall), Stanisław Dębicki, Stanisław Kaczor-Batowski and Marceli Harasimowicz (foyer). The team supervised by the abovementioned artists included painters like Aleksander Augustynowicz, Ludwik Kohler, Walery Kryciński, Henryk Kuhn, Edward Pietsch, Zygmunt Rozwadowski, Tadeusz Rybkowski and Julian Zuber. The main curtain was decorated by Henryk Siemiradzki. (source: en.wikipedia.org)
28 Svobody Avenue
Box office: +38 032 235 65 86, +38 032 260 13 60
---
Lviv Philharmonic Orchestra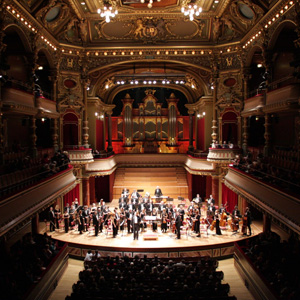 Lviv Philharmonic Orchestra is one of the oldest and most experienced Symphony Orchestras in Ukraine. It is no wonder that the orchestra of such high professional level emerged in Lviv, as Lviv has a unique cultural and artistic heritage, that develops and enriches every year.
The Lviv orchestra has existed since over two centuries and is associated with names as Franz Xaver Mozart (son of W.A. Mozart and founder of the first Music Society in Lviv), Jozef Elsner, Johann Mederich Hallyus, Karol Lipinski, Joseph Bashny, Karol Mikuli, Mieczyslaw and Adam Soltys, Ludwik Cheliansky, Henryk Yaretsky and Henryk Meltzer-Schavinsky. Furthermore, many famous international musicians and conductors, too many to name them all, have worked with the orchestra.
This orchestra is one of the largest in Ukraine and is well known far beyond its borders. Nowadays the orchestra tours successfully through European countries. Among famous concert halls where the orchestra has performed are National Royal Philharmonic in Madrid; Theatre Lucé, Palau de la Musica and National Philharmonic 'Auditorium' in Barcelona; Congress Hall in Valencia; Victoria Hall in Geneva; Tonhalle in Zurich; Cologne Philharmonic; Kiel Philharmonia; Concert Hall in Bad Homburg and National Philharmonic in Warsaw. Besides, the orchestra performed concerts in the Netherlands, Italy and Poland.
The Lviv Philharmonic Orchestra is a creative orchestra that preserves the best professional traditions of European music and successfully represents the centenary brand of the Lviv Philharmonic in the whole world. (source: www.http://philharmonia.lviv.ua)
7 Tchaikovsky Street
Tel. number: +38 032 235 81 36
ticket office: +38 032 235 89 46
marketing dept.: +38 032 235 89 48
philharmonia.press@yahoo.com
spilka@mail.lviv.ua
www.philharmonia.lviv.ua
---
Les Kurbas Theatre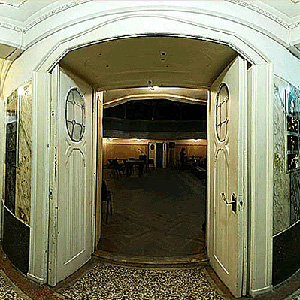 The Les Kurbas Theatre was founded in 1988 as the 'Lviv Youth Theatre' by Volodymyr Kuchynsky and a troupe of young actors and artists, seeking to create a new and challenging arena for theatre practice in the midst of a changing Ukrainian World. 
Their initial explorations in theatre gave a voice to the silenced Ukrainian poets Vasyl Stus, Vasyl Symonenko, Lina Kostenko, and Ivan Svitlychnyi, and through this exploration, they began to resonate with their own distinctive voice.
Since then their actor-centric theatrical exploration has evolved in response to personal and social history—from antiquity to present—in union with art, artists, other theatres and a remarkably diverse span genres and authors. Poetry, mythology, novels, dramas, fables, philosophy and 'texts for theatre' have all found their way onto their explorative playing fields through authors as Ukrainka, Dumas, Skovoroda, Dostoevsky, Plato, Chekhov, Pirandello, Schmitt, Antonych and KLIM.
These works have been performed widely in Ukraine and the world over, and having been invited to numerous festivals and tours, they have taken home awards on many of these occasions. On their own home front, their more recently developed work based on Stus' poetry 'Marko Prokliaty' became the recipient of the 2006 Shevchenko Prize, the highest honor awarded to the arts in Ukraine. Soon after this distinction, the theatre's official cultural status was raised from being a 'State Theatre' (the governmental status it received along with the name "Kurbas" in 1993) to 'Academic Theatre'. (source: http://en.kurbas.lviv.ua)
3 Les Kurbas Street
Tel. number: +38 032 272 48 24
kurbas_theatre@yahoo.com
www.n.kurbas.lviv.ua
---
Lesia Ukrainka's Drama Theatre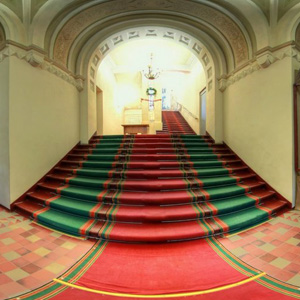 The Lesya Ukrainka Lviv Drama Theatre was founded in 1931 in Kiev. It was established as the Red Army All-Ukrainian Theater. Theatre renaming depended on the name of the district. It initially had different names - Ukrainian Red Army Theatre (URAT), Ukrainian Military District Theatre (UMDT), and Kyiv Special Military District Theatre (KSMDT). In January 1954, it first performed in Lviv under the name as the Carpathian Military District Drama Theatre, becoming the first repertory military theater in Western Ukraine.
Since Ukraine's independence, the theatre worked as the Western Operational Command Theatre. In 1996, theater funding altogether ceased. Finally on January 1, 2008 the city took over support of the theatre which was renamed the Lviv Municipal Theatre. In the spring of 2009, Lyudmila Kolosovych, distinguished Artist of Ukraine, was appointed artistic director. On April 21, 2011, the Lviv City Council renamed yet again the Municipal Theatre for Lesya Ukrainka Lviv Drama Theatre.
Lesya Ukrainka Lviv Drama Theatre actively participates in the national and international festivals. Specifically, 'The Forest Song' by Lesya Ukrainka has won national and international awards. (source: visitlviv.net)
36 Horodocka Street
Tel. number: +38 032 233 31 88
http://lesya-ukrainian-theater-lviv.virtual.ua
---
And People And Puppets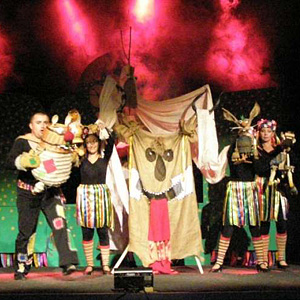 The history of the theater 'And people and puppets' starts with a new team, with a new idea, with a new building. Oleg Maksymovych Novohatsky had a dream: to have his own theater and create his own tale. And so, in 1988 the dream became reality: Novohatsky, who led the amateur theatrical groups in Lviv, was offered to create a small, but interesting professional theater. This is how the theater 'And people and puppets' came to be. The first actors were members of the studio. The first years were very difficult, due to lack of necessary basic conditions in the theater. But the great enthusiasm for the puppets kept the dream alive. Novohatsky gained considerable experience in puppetry while studying at the A.N. Matskevych studio (founder of the Lviv regional puppet theater) and at a creative workshop of S. Obraztsov.
After a history with challenges (difficulties with officials and a big fire that almost destroyed everything), the theatre 'And People And Puppets' reopened its doors in December of 2007, with help from mayor Andriy Sadovy and multiple sponsors.
In 2010 the Lviv Theater of Vaudeville Miniatures celebrated its 20th anniversary. The repertoire is annually updated with new and creative plays for children of different ages and adults. The team participated in many international puppet theatre festivals, in Ukraine and abroad. The staff was awarded several diplomas and awards. (source: http://www.puppet.lviv.ua/en)
6 Fredro Street
Tel. number: +38 032 274-00-25
http://www.puppet.lviv.ua/en
---
Lviv Academic Theatre Voskresinya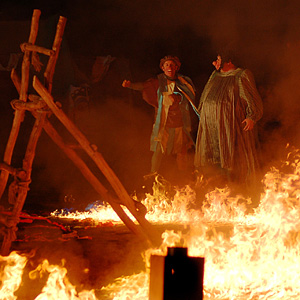 Lviv Theatre Voskresinnia was established in Lviv in 1990 on the wave of social transformations and Ukraine's regained independence. The new stage was created as a result of an agreement between young actors from different Ukrainian towns, who were not fully satisfied with the previously existing 'slightly' academic theatre.
Yaroslaw Fedoryshyn, a graduate from the Faculty of Drama at the University of Kharkov and GITES in Moscow, is a well-known artist and experienced theatre director. He became the head and principal manager of the new theatre. The Voskresinnia Theatre quickly gained popularity, presenting world drama which had never been previously shown in the Ukraine. Step by step, by combining traditional acting styles based on psychological insight with the modern visual form, the group has elaborated a specific stage formula of its own.
For the last 20 years, Voskresinnia Theatre has been invited to perform in many cities countrywide. It has taken part in international festivals in Krakow, Gdansk, Warsaw, Edinburgh, Brest, Novy Sad, Ljubljana, Maribor, Holzminden, Arkhangelsk, Trabzon, Brest, Lenz, Cairo, Bratislava, Moscow, Seoul, Valladolid, Salamanca, Prague, Montegranaro, Amersfoort, Duelmen, Bremen and Teheran. All the theatre's performances have their own unique character. They are spectacular and beautifully acted. The most popular plays staged by the Voskresinnia Theatre are 'Three Sisters' by Chekhov, 'Road to Damascus' by Strindberg, 'Giants from Mountains' by Pirandello, 'Job' by Wojtyla, 'Annunciation' by Claudel and recently 'Western Bay' by Koltes.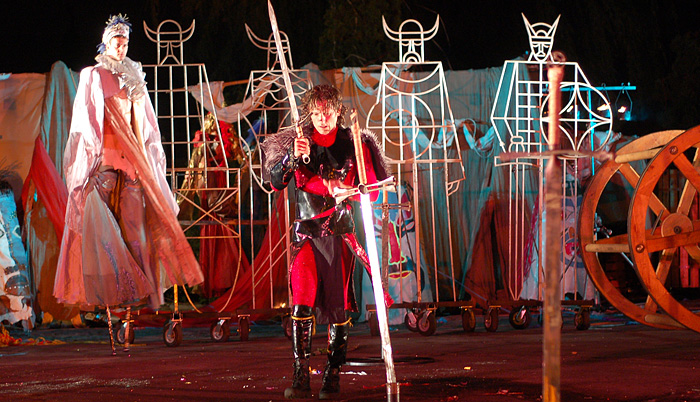 Since 1996, the Theatre has been specialising in open air productions. The boldness and spectacular style of performances combined with acting mastery have brought the theatre popularity and audience appreciation. In addition to its stage productions, the audience has been captured by its open-air performances such as 'Barylief's Fiesta', 'The Saint and the Sinful', 'Danylo Halytskyi', 'Gloria', 'Job', 'Cherry Orchard' and recently 'To Meet Prospero' and 'Pinsel's Mystery Play'. Thanks to these productions, Voskresinnia has become an unquestionable leading street theatre in the Ukraine. In 2010, in recognition of its artistic achievements, the theatre was conferred a highly prestigious title of the Academic Theatre by the Ukrainian Ministry for Culture. (source: www.voskresinnia.eu)
5 Pl. Gen. Grigorienki
Tel. numbers: +38 032 274 11 60, +38 032 274 13 00
teatr@voskresinnia.eu
www.voskresinnia.eu
---
Maria Zankovetska Theatre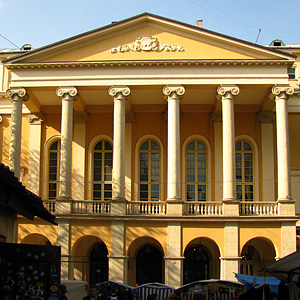 Maria Zankovetska Theatre is a drama theatre in the centre of Lviv, at the intersection of Lesya Ukrayinka Street and Prospekt Svobody. The building was erected in the mid 19th century and until World War I was used as a theatre stage and a session hall of the regional council.
The theatre was founded by Count Stanisław Marcin Skarbek (1780–1848), who as early as 1819 had applied for permission from the Austrian Imperial authorities to build it following the final Partition of Poland. Construction of the theatre's neoclassical building began in 1837. The project was designed by architects Jan Salzmann and Ludwig Pichl. In 1842 it was the third biggest building of Central Europe. Apart from the theatre itself, the complex also included apartments, for such famous personalities as Artur Grottger and Juliusz Kossak. On the opening day, March 28, 1842, a Franz Grillparzer play in the German language was performed and on the next day Aleksander Fredro's play 'Sluby panienskie' in Polish.
In initial years, plays both in Polish and German were performed and this lasted until 1871, when all German plays were withdrawn and the theatre became Polish-language only. In 1872, operas were also performed, which made Skarbek Theatre the sole opera scene in Galicia.
In late years of the 19th century the complex became insufficient, and in 1900 it was augmented by a brand new building of the Grand Theatre. Skarbek Theatre was turned into a philharmonic concert hall, then into a cinema. Currently, it is home of the Ukrainian Dramatic Theatre of Maria Zankovetska. On May 18, 2008 it celbrated its the 50th anniversary. (source: en.wikipedia.org)
1 Lesi Ukrainkybr /> Tel. numbers: +38 032 235 55 83, +38 032 235 67 62
teatrlviv@mail.ru
www.zankovetska.com.ua
---
First Ukrainian Theatre for Children and Youths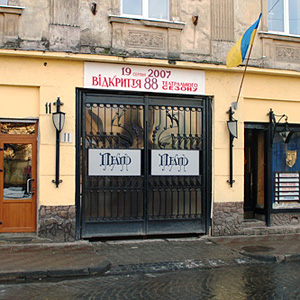 This theatre was founded in Kharkiv in 1920, but moved to Lviv in 1944. This is one of the most interesting theatres for children in Ukraine. The theatre premises are so comfortably arranged that the spectators are easily transported into the fairy-tale world which is taking place on stage. The repertoire takes into account both children and adults. The theatre can also be used for festive celebrations and concert programs. (source: lviv.travel)
11 Hnatyuka Street
Tel. number: +38 032 272 68 41
teatruw4e@gmail.com
nashteatr.lviv.ua
---
VIDEOS OF LVIV
"Our Beautiful City"
"Little Paris (in english)"
Lviv from the air
Christmas in Lviv
Lviv Ukraine
---
&nbsp
BANDS AND SINGERS
Okean Elzy
Jamala
The Hardkiss
Tina Karol
Christina Solovy
Piccardysky Tertsiya
Ruslana
Skryabin
Alyosha
Olexander Ponomarev
Zlata Ognevich
Onuka
Antityla
Loboda
Irina Dumanskaya
Irina Fedishin
Vivienne Mort
Krykhitka Tsakhes
S.K.A.Y.
Druha Rika
Boombox
Buv'ye
Lama
Platch Yeremy
Voply Vidoplasova
T.N.M.K.
Tartak
Noomer 482
Braty Hadukyny
O. Torvald
Bahroma
Epolets
Haidamaky
TIK
Ani Lorak