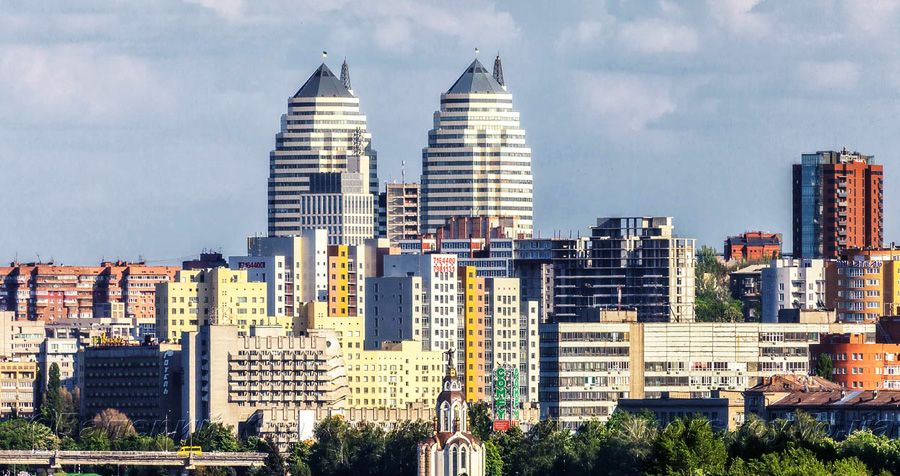 Misto Dnipro, or Dnipro City, is Ukraine's fourth largest city with about a million inhabitants. It lies 391 kilometers southeast of Kyiv on the banks of the river Dnieper. Misto Dnipro is the administrative centre of the Dnepropetrovska Oblast.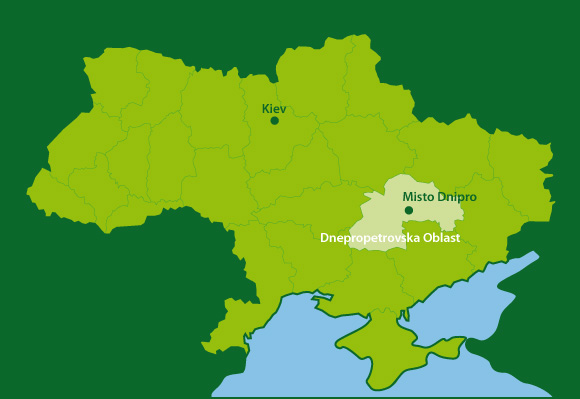 From 1776 until 1926 the city was called Ekaterinoslav, except between 1797 - 1802 when it was 'Novorossiysk' and briefly in 1918 it had the name 'Sicheslav', though it was never official. In 1787, the city was formally inaugurated by the Russian Empress Catherine the Great as the administrative centre of the newly acquired vast territories of imperial New Russia, including those ceded to Russia by the Ottoman Empire under the Treaty of Küçük Kaynarca (1774). On 19th century maps the city is also referred to as 'Katerynoslav' or 'Catharinoslav'. After 1926 it was known by 'Dnipropetrovsk' (names of the river Dnipro and of the communist leader Grigory Petrovsky) and since 2016 it is 'Dnipro City' of 'Misto Dnipro'.
In the Russian Empire, the city was originally envisioned as its third capital, after Moscow and Saint Petersburg. A vital industrial centre of Soviet Ukraine, Dnipropetrovsk was one of the key centres of the nuclear, arms, and space industries of the Soviet Union. In particular, it is home to the Yuzhmash, a major space and ballistic missile design bureau and manufacturer. Because of its military industry, Dnipropetrovsk was a closed city until the 1990s.
The city is surprisingly green along the wide Dnieper river. The city has remarkable embankments, long boulevards and spacious parks. It is also the centre of high-technology industries, education, machine-building, metallurgy and trade. The city is not only famous for its commercial industry, but also for its green hills and long history.
---
BANDS AND SINGERS
Okean Elzy
Jamala
The Hardkiss
Tina Karol
Christina Solovy
Piccardysky Tertsiya
Ruslana
Skryabin
Alyosha
Olexander Ponomarev
Zlata Ognevich
Onuka
Antityla
Loboda
Irina Dumanskaya
Irina Fedishin
Vivienne Mort
Krykhitka Tsakhes
S.K.A.Y.
Druha Rika
Boombox
Buv'ye
Lama
Platch Yeremy
Voply Vidoplasova
T.N.M.K.
Tartak
Noomer 482
Braty Hadukyny
O. Torvald
Bahroma
Epolets
Haidamaky
TIK
Ani Lorak