Zlata Ognevich was born in the city of Murmansk. Because of her father's work, the family had to move often and because of that Zlata has lived in St. Petersburg and in Minsk. Her life dramatically changed when they moved to Ukraine, to the picturesque town of Sudan in Crimea. Since then, Zlata has two passions: the mountains and the sea. A little later, her third and biggest passion was music.
At the age of 18, Zlata went to Kiev, where she began to develop into a professional singer. Here in the High Music School named after Glier she mastered pop vocal skills. She continued her studies at the Kiev Institute of Music, but now studying jazz. On the road to success Zlata gained invaluable experience in the State Ensemble of Song and Dance of the Armed Forces of Ukraine.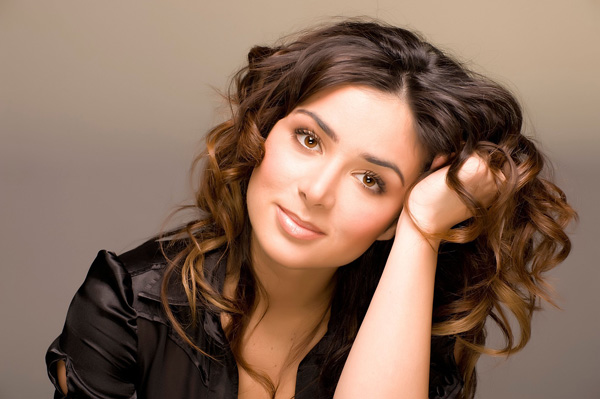 Zlata won prizes in a remarkably short period of time: winner of 'The first singing radio presenter' contest, finalist in the national selection for Eurovision 2011, winner in the popular TV show 'Folk Star 3'.
In June 2011, the foreign diplomats of the Argentinian embassy awarded Zlata with the title of 'Best Voice of Ukraine'. In autumn of the same year, Zlata Ognevich represented Ukraine at the First International contest of young performers, held at the 'Crimea Music Fest' festival in Yalta, and won the first prize. Having won the national selection, Ognevich represented Ukraine at the Eurovision Song Contest 2013 in Malmö, Sweden in May 2013. She came in third place. And on the 30th of November that year, Zlata together with Timur Miroshnichenko lead the Children's Eurovision Song Contest in Ukraine.
Zlata is actively doing charities for sick children, orphans and also for the troops fighting in eastern Ukraine. In 2014 she decided to run for MP in the Ukrainian parliament.
Discography
Songs
Ostrov Lyubvy (Island of Love (Tiny Island) - 2010)
Angely (Angels - 2010)
Prystrasty (Passion - 2010)
Kiss (2010)
Kukushka (2010)
The Kukushka (2011)
Japan (2011)
My bunny (2011)
Daleko (Far Away - 2011)
One Day (2012)
Za Lysamy-Goramy (For Forests-Mountains - 2012)
Gravity (2012)
Magic story (2013)
Moya Melodiya (My Melody - 2014)
Pray for Ukraine, feat. Armin van Buuren (2014)
Daleko v.2015 (Far Away - 2015)
Zapaly Ogon' (Kindle Fire - 2015)
Gel Ey Seher (2015)
Kruzheva (Lace - 2015)
Za Lytom, Za Vesnoyu (For Summer, For Spring - 2016)
GO TO THE PAGE OF...
Krykhitka Tsakhes
S.K.A.Y.
Druha Rika
Boombox
Buv'ye
Lama
Platch Yeremy
Voply Vidoplasova
T.N.M.K.
Tartak
Noomer 482
Braty Hadukyny
O. Torvald
Bahroma
Epolets
Haidamaky
TIK