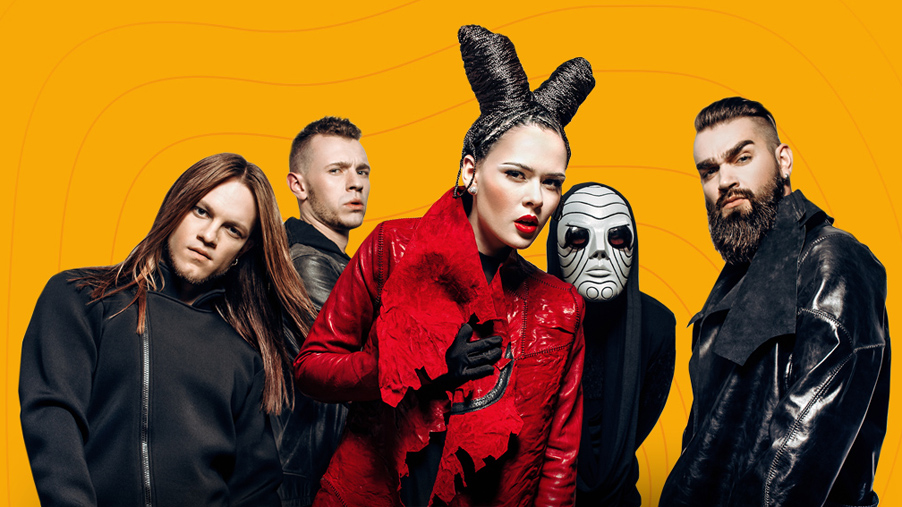 The Hardkiss is a band from Kyiv, founded in 2011. Its music is a mix of rock, pop and electronic music. Musicians define it as progressive pop. Authorship of all their songs belongs to singer Julia Sanina and guitarist Valeriy Bebko, who founded the band.
The Hardkiss is a mix of seemingly incompatible things: heavy arrangements, melodic parts, profound lyrics and soul vocal of Julia Sanina. They have their own stylists and work with the best Ukrainian fashion designers. Not liking the word 'epatage', their looks are a part of their philosophy, illustrating the music. The Hardkiss was the face of Pepsi and Lenovo in Ukraine. Also the band was nominated at national MTV EMA award as the best Ukrainian artist. They are the proud owners of five national music Yuna awards for 'best album', 'best song' and 'best video clip'. Ukrainian Forbes included frontwoman Julia Sanina on the list of 30 most successful Ukrainians up to the age of 30.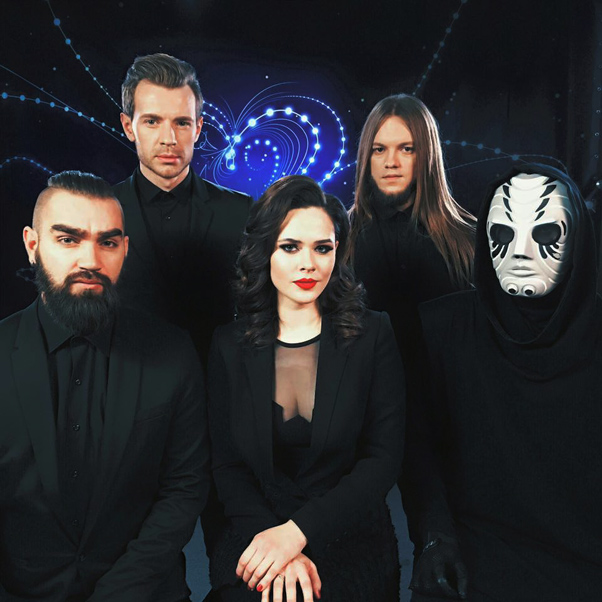 In 2012, The Hardkiss were nominated for the MTV Europe Music Award for Best Ukrainian Act. In 2013, The Hardkiss were awarded with two awards, 'Best New Act' and 'Best Music Video' (to producer Valeriy Bebko for clip Make-Up), of the national music award YUNA. On May 18, the band presented their first show in the Green Theatre in Kyiv. and opened the Muz-TV Music Awards on June 7. In 2014, their debut album 'Stones and Honey' was released. Also in 2014, the band performed at Park Live Festival and shared the stage with bands like The Prodigy, Deftones and Skillet.
In 2015, the band was nominated for the music award YUNA again and received the awards of 'Best Music Album' (Stones and Honey) and 'Best Song' (Stones). In the same year the EP 'Cold Altair'was released. In 2016, The Hardkiss took part in the Ukrainian national selection for the Eurovision Song Contest with the song 'Helpless'. They came in 2nd in the finals.
They are getting ready to release some new singles, and are planning to make a big show in Kyiv. Then they will on their 'Perfection Tour'. At the present, Yulia Sanina is one of the four judges in the seventh edition of The X Factor Ukraine.
Band Members
Yulia Sanina – vocals (2011–present)

Valeriy 'Val' Bebko – guitar (2011–present)

Kreechy – drums (2011–present)

Roman Skorobahatko – guitar (2013–present)

Klim Lysiuk – bass guitar (2016–present)

Former members
Pol Solonar – keyboards (2011–2013)
Vitaliy Oniskevich – keyboards (2013–2016)
Discography
Albums
EPs
Singles
Babylon - 2011
Dance With Me - 2011
Make-Up - 2012
October - 2012
Part Of Me - 2013
In Love - 2013
Under The Sun - 2013
Shadows Of Time - 2013
Tell Me Brother - 2014
Hurricane - 2014
Stones - 2014
Strange Moves (feat. KAZAKY) - 2014
PiBiP - 2015
Organ - 2015
Tony, Talk! - 2015
Helpless - 2016
Perfection! - 2016
Rain - 2016
GO TO THE PAGE OF...
Krykhitka Tsakhes
S.K.A.Y.
Druha Rika
Boombox
Buv'ye
Lama
Platch Yeremy
Voply Vidoplasova
T.N.M.K.
Tartak
Noomer 482
Braty Hadukyny
O. Torvald
Bahroma
Epolets
Haidamaky
TIK